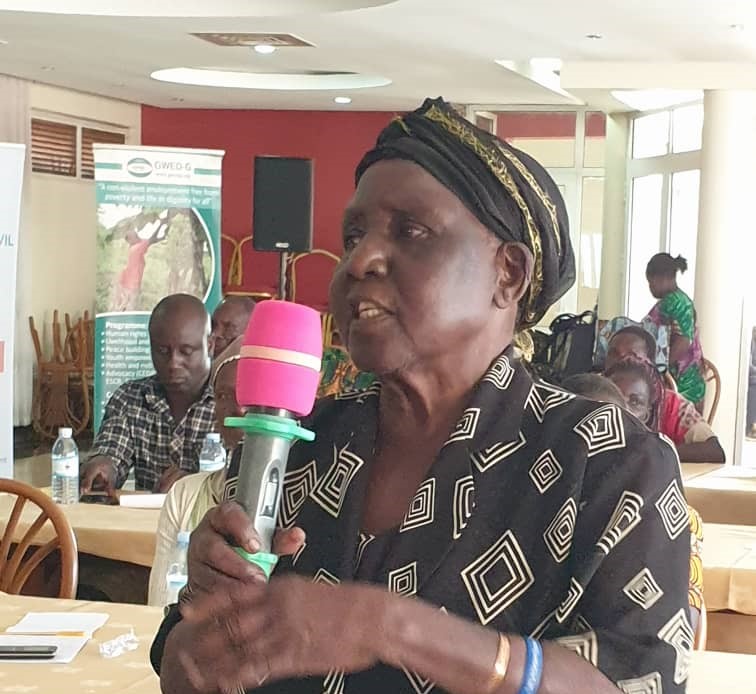 Building the Capacity of Women Grassroots Leaders in Conflict Prevention and Peace Building – Uganda 3
Interface Dialogue on Inclusive Processes In Peacebuilding & Conflict Prevention in Uganda
With support of Tallawah Justice for Women and the University of Nottingham, GWED-G organized an Interface Dialogue to highlight the important role that women leaders can play in contributing to the peacebuilding functions of transitional justice. 
Context
Women-led grassroots organizations play a critical role in building violence prevention and response systems in conflict-affected communities in Uganda. The 20-year insurgency in Northern and North Eastern Uganda, which was characterized by abductions, sexual and gender-based violence, familial displacement, and land grabbing, created a climate of economic, social and cultural deprivation and stigmatization.
Addressing the legacies of past violence and human rights abuse is necessary for fostering sustainable peace. Transitional justice embodies an attempt to build sustainable peace after conflict, mass violence or systemic human rights abuse. Justice in this case is treated as a positive contribution to the restoration and maintenance of peace through establishing individual accountability, deterring future violations, establishing an historical record, promoting reconciliation and healing, giving victims a means of redress, removing perpetrators and supporting capacity-building and the rule of law.
General Objective
The Interface Dialogue brought together women grassroot survivors' leaders, local government
leaders, activists, local parliamentarians, cultural and religious leaders and focal points from the
Ministries of Justice and Constitutional Affairs and Gender, to discuss how to ensure more inclusive processes for peace building, conflict prevention and transitional justice in Uganda. Critical discussion focused on the following:
A mapping exercise and needs-assessment survey of women leaders in conflict-affected regions in North and North-Eastern Uganda;
Establishing workable avenues for including women leaders in the transitional justice advocacy; update on the progress on the current TJ Bill and push for the NTJP to become legislation to enhance accountability;
Discussion on an enhanced role for women survivor and grassroots leaders to contribute to advancing Uganda's peace, security and transitional justice agenda through peacebuilding and conflict mediation;
Discussion on tangible ways in which women grassroots and survivor leaders can influence processes and government programmes/frameworks such as PDM, NDP and NUSAF to ensure greater responsiveness in the provision of remedial reparations for victims and survivors;
Engagement between women leaders and cultural/traditional and religious leaders on developing concrete programmes for the reintegration of children born of war and women war victims to contribute to social cohesion and promoting community rebuilding.
Partner(s)
Tallawah Justice for Women and the University of Nottingham are our partners for this crucial dialogue to advance women's rights in these regions.