TFV Project: A Computer Star Rising from Ashes
In 2003, at the tender age of 6, Robert from Payuta village, awoke abruptly to his family hut on fire, set alight in an attack on his home village. Young Robert, under the impression that his parents has ran away to hide in the bush, was rescued by some neighbours who later rushed him to Gulu Regional Referral Hospital to attend to the serious burns he incurred from the attack.
Robert soon learned that his father perished in the attack.
Years later, Robert was linked up with GWED-G's support in the Trust Fund for Victims (TFV) Project supporting war survivors still suffering from unattended physical injuries and psychological traumas resulting for the LRA War. Robert had been living with a deformity in his left hand that prohibited his ability to carry out normal daily activities, including completing school work. As a project participant, Robert underwent assessment and surgery to restore functionality to his hand.
After his successful recovery, Robert says he was able to resume his studies at Awach Secondary School where he eventually sat for the Uganda Certificate of Education.
"I have become very active in the garden as opposed to my experience before the surgery. Currently, I have invested in small-scale chicken rearing and [I] am very ambitious to expand. I have harvested 4 bags of clean sorghum that is ready for market… I also harvested dry cassava as well."
Due to the nature of the original injuries he suffered, Robert will need to continue with ongoing corrective surgeries to fully restore functionality back to his hand. Meantime, Robert expressed interest in computer skills and Information Technology. GWED-G linked Robert to computer trainings offered by SINFA Uganda, an IT NGO based in Awach.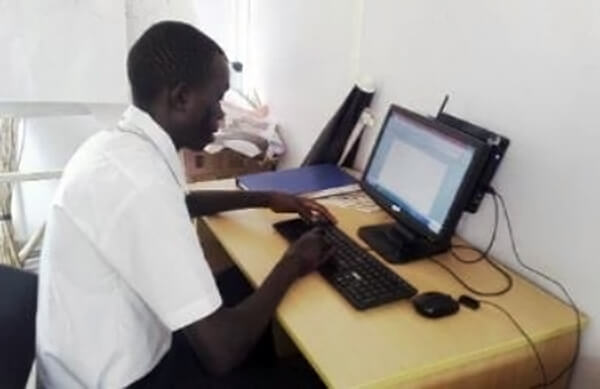 We are happy to report that he has earned a certificate from this training and he dreams to major in ICT after finishing secondary school.