Dialogue on inclusive peacebuilding processes and conflict prevention in Uganda
GWED-G AND PARTNERS CONVENES DIALOGUE ON INCLUSIVE PEACEBUILDING PROCESSES AND CONFLICT PREVENTION IN UGANDA
"The biggest outcome of this dialogue should be a commitment by all the actors to remind the government to pass the National Transitional Justice Policy in to an Act". Hon. Lyandro Komakech.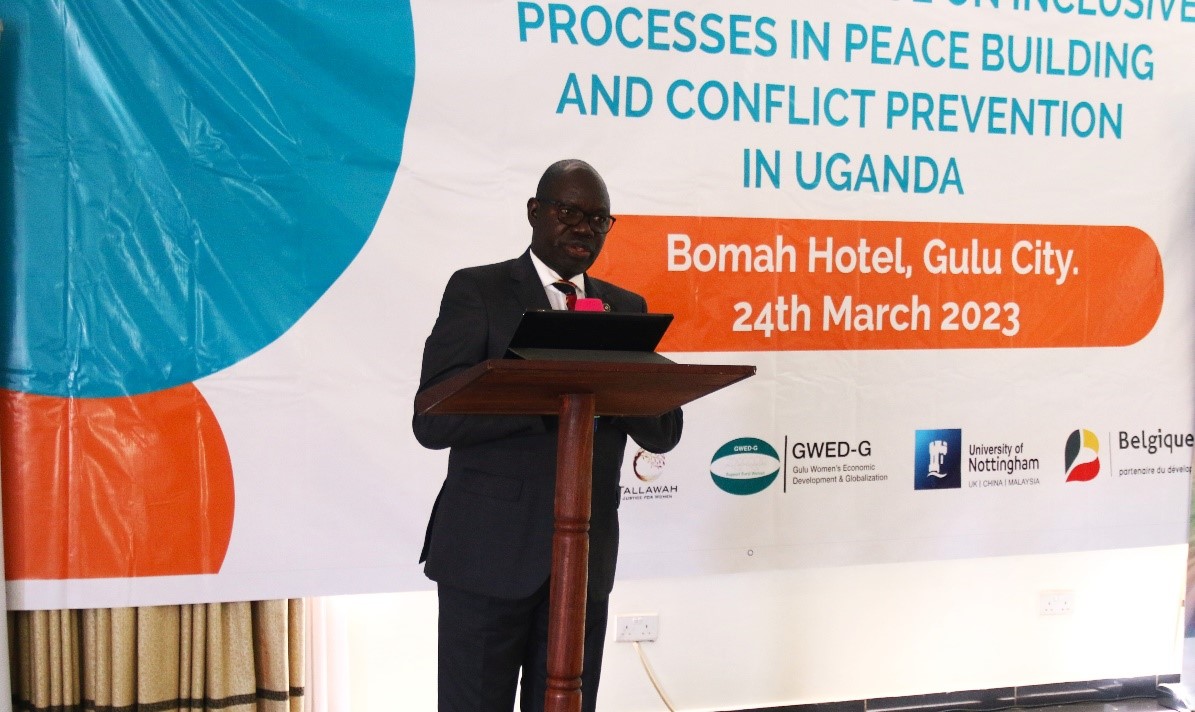 Picture: Hon. Lyandro Komakech (former Member of Parliament) guest speaker during the interface dialogue
On the 24th March 2023, Gulu Women Economic Development and Globalisation (GWED-G) in partnership with Avocats Sans Frontières (ASF), Tallawah Justice for Women and Nottingham University convened a one-day stakeholder dialogue on inclusive peacebuilding processes and conflict prevention in Uganda. The dialogue focused on establishing avenues for promoting meaningful participation in the implementation of community level Transitional Justice (TJ) processes premised on accountability, peacebuilding, and reconciliation for war affected communities in Uganda.
Uganda as a country has witnessed decades of unresolved violent conflicts with the deadliest one being the Lord's Resistant Army (LRA) conflict that ended in 2006 following the Cessation of Hostility Agreements and the subsequential signing of the Juba Peace Agreements. The Juba Peace Agreements gave birth to the current National Transitional Justice Policy (NTJP) which has become a temporary roadmap for delivering peace dividends to Ugandans. However, the restoration and maintenance of peace through accountability, deterring future violations, promotion of reconciliation and healing, giving victims a means of redress, supporting capacity building and the rule of law continues to remain a healthy conversation in the context of post conflict Uganda.
The dialogue brought together women grassroots survivors' leaders, representatives of survivors and victim groups, local government leaders, activists, former parliamentarian, cultural and religious leaders, Minister of Justice and Constitutional Affairs and Minister of State for Northern Uganda. Critical discussion focused on: fast tracking the implementation of National Transitional Justice Policy of Uganda; it also highlighted the roles of women survivor's leaders in peacebuilding processes and a follow-up on the petitions that was submitted to Parliament of Uganda ten years ago by women war victims' groups. The dialogue was also utilized as a platform for policy advocacy requesting the government of Uganda to implement interim reparations for war victims and the establishment of fund to support the Lord Resistance Army (LRA) victims in Uganda.
GWED-G and its partners remains committed to bringing to light the peacebuilding functions of transitional justice.  We believe that; transitional justice can contribute to post-conflict peacebuilding by ensuring accountability, ending impunity, promotion of rule of law and respect for rights of victims and survivors. Critical in enhancing the promotion of peaceful co-existence is the provision of reparations for victims and survivors of conflicts – for social repair. According Ms. Pamela Judith Angwech (Executive Director-GWED-G), the stake holder dialogue was critical in providing spaces for the involvement of women in decision making, and voicing their concerns towards fast-tracking the translation of the National Transitional Justice Policy into an act or legislation. In her presentation Ms. Pamela concluded by providing a synopsis of critical issues affecting victims and survivors of conflicts in Uganda that require redress – calling it the "the significant Transitional Justice Gaps", which includes;
The need for Transitional Justice actors in Uganda to establish a clear avenue through policy dialogue to translate the NTJP into an Act;
Re-igniting conversations with the Government of Uganda in regards to petitions submitted by victims/survivors of LRA conflict to the Parliament of Uganda;
Lobbying agencies and government ministries to adopt victim centered approaches to remedial reparations;
The need to dialogue on the development of comprehensive guidelines for the registration of children  born of war (CBoW) to acquire national identity cards.
The dialogue in its own rights generated a number of recommendations and action points that can be executed by any interested Transitional Justice actors/stakeholders in Uganda. Below are the recommendations;
Translate the Juba Agreements into law – this will involve pushing for the National Transitional Justice Policy into a legislation/ACT.
The state and other relevant actors must make concerted efforts to distinguish between reparations and compensations – as some of the ways in which the state can respond to the plight of the victims of LRA conflicts.
The Ministry of Justice and Constitutional Affairs (MoJCA) under the leadership of Hon. Norbert Mao committed to returning to the Cabinet of Uganda and taking lead in reigniting discussions, and debates on development initiatives for victims and survivors of conflicts in Uganda, particularly the LRA conflict.
There is need by all transitional justice actors to consistently advocate to the Government of Uganda to critically focus on addressing victims concerns and needs. This can be done through influencing government programs to purposely target victims of conflicts.
The MoJCA stated that there is need to directly engaged with the elected leaders such as the LCVs, they should be made interested in understanding the dynamics and contextual issues embedded in the National Transitional Justice Policy and transitional justice issues in Uganda.
Development actors and CSOs interested in transitional justice discourses in Uganda should support victim support groups to engage in a dialogue with the MoJCA to understand and document current and pressing victim needs.
The Minister mentioned the need to respect women spaces and ensure they are inclusive in all conversation on peacebuilding and transitional justice, he mentioned women should continue to voice themselves especially on issues that concerns them.
Cultural institution advised to promote continued processes of re-integration of children born of war and women war victims back to their own villages and homes to reduce vulnerability and increase their livelihoods diversification choices through access to land and natural resources. These processes aligned itself to the implementation of reparations and the role of cultural institution in the TJ policy adopted in 2019.
First of its kind, GWED-G and its partners would wish to continue to convene regular dialogue series to shape discussions and interventions on recent peacebuilding and transitional justice discourses in Uganda.
Written by: Denis Barnabas Otim, Peacebuilding Officer – Northern Region (GWED-G)
---