GWED-G trains 35 land rights defenders in Northern Uganda
From February 2020, Human Rights Focus (HURIFO) together with Gulu Women's Economic Development and Globalisation (GWED-G) and Soleterre embarked on the implementation of a two years' project with funding support from the European Union (EU).  This action aims at the "Protection and Empowerment of Land Rights Defenders in Northern Uganda (PELARD-N)".  PELARD-N action is a result of an extensive experience of the consortium members working with Human Rights Defenders. The assignment aims at benefiting a total of 7000 vulnerable individuals in northern Uganda to guarantee that their land rights and human rights are protected and promoted.
Under PELARD-N, GWED-G and the consortium members employ various expertise and experience on land governance to positively influence the working environment of Land Rights Defenders and Human Rights Defenders across the districts of Amuru, Gulu, Nwoya and Lamwo. This is being done through capacity building and knowledge sharing to advance responsiveness and intervention among duty bearer's and right holders in regards to land governance. From the 26th -30thOctober, 2020 GWED-G spear headed a five days training of 35 of Land Rights Defenders in northern Uganda. This specific knowledge sharing session was conducted from at Gulu City Health Board Room.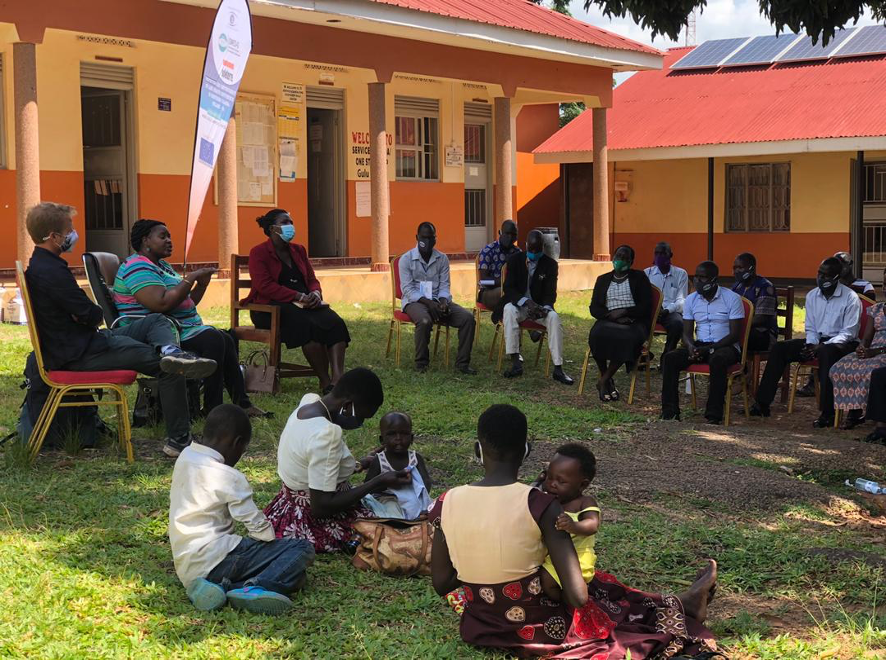 Capacity building training of Land Rights Defenders, experience sharing with GWED-G Executive Director, 29th October, 2020. ©GWED-G
The capacity building training included a simplified session of experience sharing by the Executive Director of GWED-G, Ms Pamela Judith Angwech, a re-known Human Rights Defender in Northern Uganda and GWED-G Quality Assurance Manager, Ms. Immaculate Alanyo. Following their testimonials on the importance of understanding the roles of LRDs in the protection and promotion of Human Rights, discussion was opened for the participants to pose questions and allow them to provide their profound experiences and insights on human rights documentation and reporting.
The knowledge sharing session was part of GWED-G and PELARD-N larger capacity building initiative for Land Rights Defenders to ready and prepare them to do their work while limiting the chances of being at risk. This specific session was designed to provide the LRDs with an opportunity to learn, reflect and understand the local, national, regional, global protection, communication and advocacy mechanisms. It also marked the complete and full package under strategic objective one (SO.1. Capacity Building of Land Right Defenders), for year one for LRDs under PELARD-N.  The complete package under this objective included knowledge sharing on: 
Risk Assessment, Aggression Management and Digital Safety (RAAMDS);
Basic Laws, Human Rights, Monitoring, Documenting and Reporting, Human Rights abuses using digital systems (HRMDR); 
Training on Local, National, Regional, Global Protection, Communication and Advocacy Mechanisms, including UN and EU (LNRGPCAM-UNEU).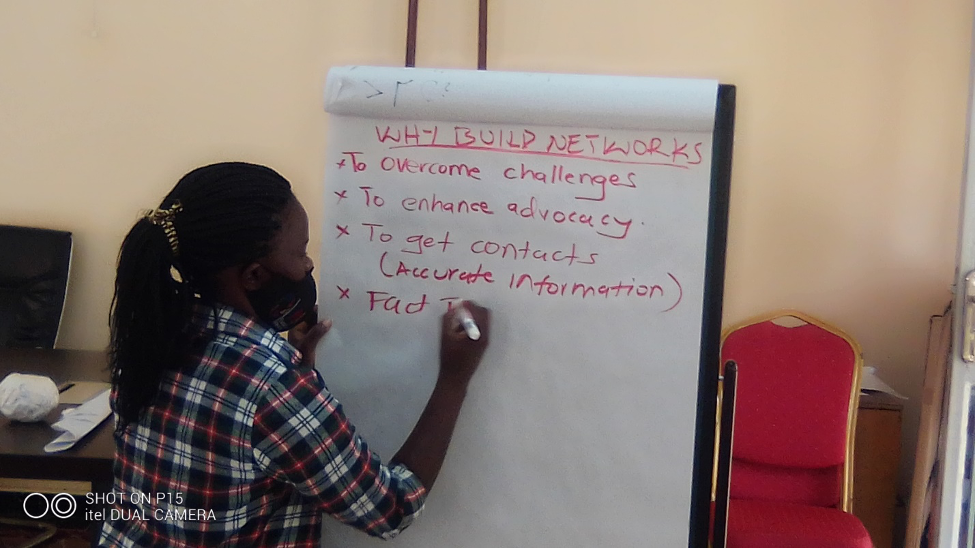 Capacity building training of Land Rights Defenders, session on building networks, 30th October, 2020. ©GWED-G
Using a blended learning approach, the knowledge sharing session included facilitated experience sharing, testimony sharing by LRDs and facilitators on best HRD experiences and work, land dispute documentation and dispute resolutions, lectures, brainstorming, question and answer sessions and facilitators sharing of case studies and practical examples. The knowledge sharing session was guided by thematic issues and this enabled members to learn from each other's lived experiences as Land Rights/Human Rights Defenders, conflict prevention actors and community peace builders and mediators.
During the training, it was agreed that there was need for the LRDs to continuously apply and make good use of the knowledge and skills acquired while executing their work of protecting human rights, conflict prevention and resolution. It was underscored that LRDs play critical roles in the promotion of peace, security and justice in their communities as they act as key focal persons in land dispute resolution and environmental injustices in their various villages in northern Uganda.
During the knowledge and experience sharing the Executive Director of GWED-G explained that LRDs are in powerful position and play critical role in influencing prevention of land conflicts and land dispute resolution in northern Uganda. Critical is that building partnership for the protection and empowerment of individual and group rights to land is key for the promotion of sustainable peace and development in northern Uganda. At the time of the training, a total of 43 land related disputes and human rights violation had been reported and documented by LRDs from Amuru and Nwoya in the past three months with high number of land disputes reported in Amuru Town Council in Amuru district and Alero Sub-County in Nwoya District.
Written by Denis Barnabas Otim, 

Programme Officer – Human Rights
---