From the Grassroots to Breaking the Glass Ceiling: Meet Molly Akidi
Molly Akidi is a 43-year old woman from Mojong village in Northern Uganda. She is one of GWED-G's beneficiaries of the VOICE Project aimed at enhancing women's leadership skills and increasing women's effective participation in political decision making processes.
Molly's leadership journey began after she had first become a married woman and was chosen by her clan as the women's representative in the clan. She later joined a Village Savings and Loan Association group, where she was elected to be the group's chairperson. Through these roles, Molly was able to interact with numerous women who faced various challenges within their lives and communities. One of the most pressing issues. When lack of support for girl-child education emerged as one of the most prevalent challenges in the community, Molly joined the PTA of Okwir Primary School, the main school serving the area.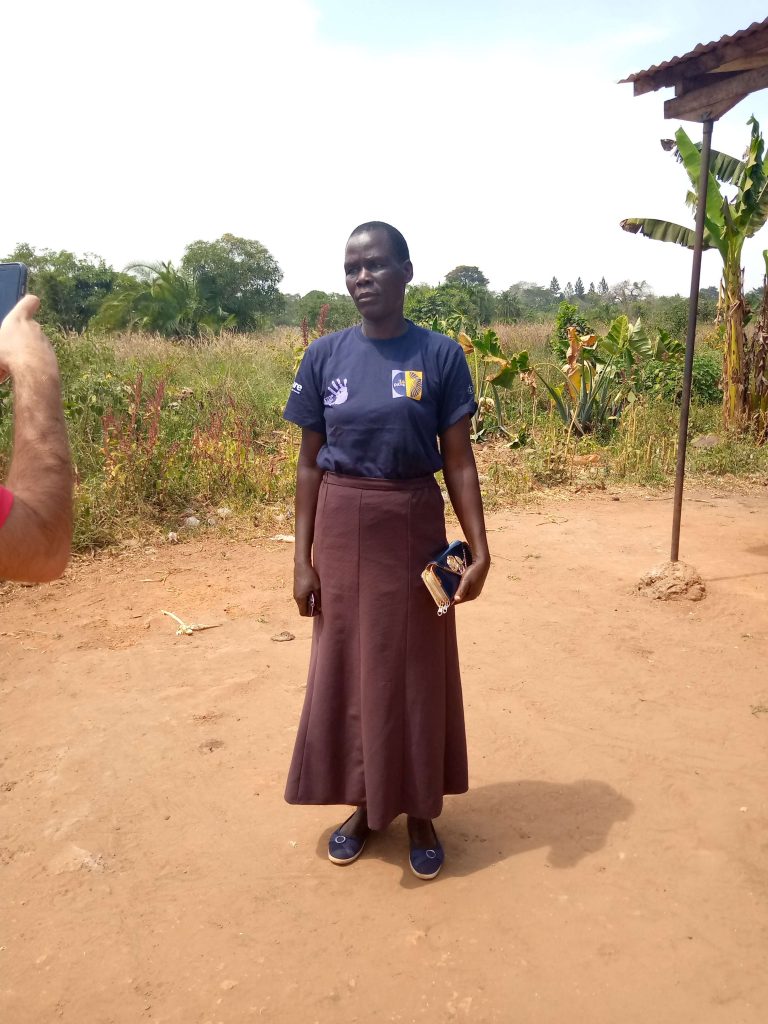 As an actively vocal leader within her community, Molly joined our VOICE Project where she participated in community dialogues and sensitizations and received training on women in leadership, political participation, and how to use a caucusing approach to obtain results. This support helped Molly to prepare for her future endeavours.
"As women councillors we learned about our mandate in the council, and it helped me understand what I am supposed to do. It's good because I can do my job correctly, I can contribute more to my community and win the respect of my constituents."
Molly was taken under the wing of Mzee Martin Alobo (LC III Bobi) who mentored her and encouraged her to join political leadership. With his guidance and support, Molly contested and won a position as Woman Councillor III in Palwo Parish. Since then, she hasn't looked back and has aimed for even higher leadership positions.
In fact, Molly is now the interim Chairperson LCIII for Aremo sub-county! During the election process, Molly recounts that there were 2 males and 2 females (herself included) competing. The other female candidate wanted to drop out – which would have swung votes in the males' favour. Yet, Molly pushed forward. She recalls:
"I had to use the skills and confidence I gained from GWED-G to lobby my fellow councillors to vote for m, based on my capabilities. I was determined that I would make it through after convincing my fellow councillors to nominate me… When I was nominated and seconded, I emerged the winner."
The training by GWED-G provided Molly the opportunity to connect with women from her constituency in order to better understand women-specific challenges. These challenges include early/forced marriage and early school dropout, especially among girls. As a member of the PTA, Molly was able to lobby with the District Education Officer to hire female teachers, after discovering the primary school had not a single one. Lack of female teachers can be a contributing factor for girls dropping out of school because there is an absence of female role models to mentor, counsel, and guide them. From her efforts, 2 female teachers have been recruited and the head teacher is now a female. This has purportedly led to better retention of girls in school and hopefully will increase the level of education throughout the community.
For Molly, the personal is also political. She likes to engage with community members as individuals. Molly took the initiative to support two child mothers who were forced to drop out of school. For them, she lobbied through her MP in conjunction with World Vision to seek second-chance education opportunities. Thanks to her hard work, one girl is now enrolled and attending secondary school and the other girl is attending a vocational school to learn tailoring.
In Molly's eyes, the VOICE Project has helped to encourage women to take up leadership positions and occupy political spaces, despite the many obstacles women continue to face. GWED-G has found that lack of education is still a major reason limiting women's political participation progress. Molly notes that literacy is a big issue (especially as it is a basic requirement for most positions), and "even getting a woman with an O-level certificate is hard to find in this village".
Molly points out that the mindset of people, especially men, continues to pose problems:
"The primary fear among men is that once a woman is in a leadership position and has money, she becomes big-headed. Lack of understanding between husbands and wives results in a lack of communication and coordination of ideas and plans, which leave men too insecure, and they look for other ways to assert them. But even as women, we are not supportive of each other, and this has continued to hinder our progress."
In her own sub-county of Aremo, they have formed a Women's Caucus. Molly says they use the Caucus as a platform to organize and voice their concerns without being tied up in party ideology. They identify problems, prioritize, and choose the best representative to table motions before the council, while the rest of the group seconds these motions.
Molly's caucus has recently passed a bylaw against early child marriage and it is currently being approved by the council. Congratulations, Molly and Happy International Women's Day!